Posted by Mazarine
On March 26, 2013
2 Comments
Andy Samberg, andy samberg girlfriend, aquarius dog, capricorn dog, destiny cards, engaged, Joanna Newsom, Leo horse, married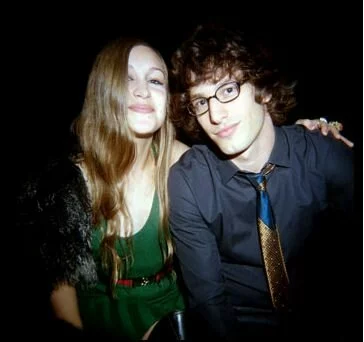 Joanna Newsom and Andy Samberg just announced they were engaged! Congratulations to the happy couple!
Just in case you don't know who Andy Samberg is, he got obsessed with Saturday Night Live as a child and decided to be on the show. After becoming a Youtube sensation, he got to make his debut on the show and win an Emmy for best comedy video in 2005 with his Dick in a Box sketch. In 2012 he announced he was leaving Saturday Night Live after 7 years.
Just in case you don't know who Joanna Newsom is, she is an incredible harpist who has toured around the world, who was raised without radio or TV and attended a Waldorf school. She started out on the Celtic harp and got a pedal harp for her 7th grade graduation and her harp soon became like another part of her body.
Newsom has released three studio albums, starting with her 2004 debut The Milk-Eyed Mender. Her most recent album, 2010's Have One on Me, was a three-disc affair that stretched past two hours.
What are their destiny cards?
Joanna Newsom was born: January 18, 1982
Andy Samberg was born: August 18, 1978
First of all, Capricorn and Leos get along well! Leos are sunny, Capricorns are hardworking, and they both love a good party!
Horses and Dogs get along well too. Horses can soothe the worried Dog, and the Dogs can be loyal to the often globe-trotting Horse.
What do their destiny card connections tell us?
Joanna Newsom is a Capricorn Nine of diamonds, four of diamonds.
This will mean that she will be a giver, and can experience universal consciousness in relation to her values. She can be unhappy in a world where she remembers having the power of the 8 of diamonds, feeling like she should be treated like a queen and often feeling let down.
As a 4 of diamonds, she will also be a hard worker, and work to create a family and home life that is stable.
Her first karma cards are the Queen of diamonds and the five of spades. This means that she can be negative, and perpetually dissatisfied, as the first karma cards mean that these cards will be challenges for her. Five of Spades means changes in lifestyle, work, and health. She will always want to be on the move. This can make her difficult to live with.
Her second karma cards are the five of diamonds and the five of hearts. This means that constant moving and changes of place and values can be beneficial for her. She can be a good salesperson. She can also benefit from having changes in the people around her, with the 5 of hearts. She likes to have lots of different relationship experiences, and these will be a blessing for her.
With Andy Samberg, she may have met someone she can see every once in awhile, as he continues to have his comedy career, and she has her music career, so they can keep things fresh together.
Andy Samberg is the eight of clubs. He is a Leo, which means he does not have a planetary ruling card, and he is one of the fixed cards, meaning that he has no karma cards. An 8 of clubs can be difficult to live with because they are very fixed in their minds. This means that they will use their powerful mind to argue with you and you will probably lose. They like to argue and nothing can dissuade them from whatever viewpoint they've attached themselves to. Life changes will be hard for Andy Samberg.
What are their connections?
They don't really have a lot of connections in the past life or life spread.
But their chinese and western sign connections make up for that.
Andy Samberg had a crush on Joanna Newsom for a long time. They went out for 5 years before deciding to get married.
Because Andy Samberg is very fixed in his mind, he will most likely be the one who decides how long this relationship will last.